#1: Moonrise Kingdom
It's no secret that I'm a big fan of director Wes Anderson. His signature visual style has a voice of its own, his richly developed characters are lovingly flawed, and his attention to detail is beyond anything you've ever seen (the production design on this film is impeccable). But it doesn't happen very often for me to see a movie where I burst into applause as soon as it ends (okay, I did applaud at the end of films #1 – 3 on this list, but that's rare in any given year). 'Moonrise Kingdom' is a VERY special movie. It's so special that it makes me feel proud to be a human being. This movie is fantastic and hits you on an emotional level with its elements of pure awe, wonder and surprise. If you've ever been in love (and especially if you remember what it was like to be a kid in love), this movie will speak to you in a way you never thought possible. Ed Norton gives a heartbreakingily honest performance as a Scout Master who is doing the best he can (and as is the norm, Frances McDormand and Bill Murray are perfect as the flawed parents of little Suzy Bishop). The two young leads aren't professional actors but they embody Suzy and Sam completely. Nothing in this film feels hokey or forced. It's just a real, honest portrait of young love that is brimming with a childlike idealism that is free from those inevitable disappointments in life that come with growing older.


#2: Argo
"Argo" is my pick for the 'best directed' movie of the year. I have to give it to Ben Affleck, he has skillfully crafted an impeccably well made, nearly perfectly directed movie that takes a true historical event and elevates it to an intense, 'edge-of-your-seat' exciting level. Not one single scene or shot is unnecessary in "Argo," making it as close to a technically perfect movie as I have ever seen. Sure, it's slick and polished — but it's also charming, funny and 'holy crap, I almost had a heart attack' exciting. I am absolutely, unequivocally, 100% head over heels in love with this movie.


#3: Django Unchained
Admittedly, it's not Tarantino's best film — but 'Django Unchained' still clocks in at #3 on my best of the year list. It's sort of a mess of a movie with bunches of genres and ideas blended together and splattered about, but it's a beautiful mess (and an insanely entertaining one). When an idea works, it soars; when an idea doesn't work, it still entertains. The movie is beautifully shot, well written, well directed (well, duh!), well acted (Jamie Foxx, Leonardo DiCaprio and Christoph Waltz are phenomenal), and lends itself to lots of discussion. It's inflammatory, to be sure, but when have you ever seen such a cool mash-up of a spaghetti Western and a blaxploitation film all in one?


#4: End of Watch
This is what every "buddy cop" movie ever made wishes it could be. The chemistry between the two lead actors (Jake Gyllenhaal and Michael Pena) is hugely convincing (I could swear these two guys were real cops for the LAPD). I'm not a fan of Gyllenhall but his charismatic, nuanced and quiet performance blew me away. I went into this movie not expecting to like it — heck, I didn't even want to go see it — and within the first 5 minutes, I was engrossed in the story and completely in love with the movie. The script is well-written and the dialogue honest and not overworked (as it is in many police dramas). It was really nice to see a movie about cops where they turn out to be the GOOD guys. No double crosses, no crooked bosses; just two men who love the law and love their jobs.


#5: Frankenweenie
'Frankenweenie' relies on a special blend of classic horror homages and a sprinkling of genuine movie magic to remind us how our beloved animal companions enrich our lives, even after they're gone. The movie is filmed in gorgeous black and white, while the retro stop-motion animation gives it a decidedly unique (and a bit of a macabre) look and feel. The artistry in this film is AMAZING! This movie is a joy to watch because it looks so good! The vocal talent is top-notch too. There are lots of fun monster movie puns and oddball references, but the jokes are solid and the sentiment sincere. A must-see for any classic movie lover, animal lover, and anybody who is a fan of creepy old monster films.


#6: Safety Not Guaranteed
Offbeat, nerdy, funny and touching, "Safety Not Guaranteed" is living proof that you don't need a huge, over inflated budget to make a great little movie. It's briskly paced and the premise is great: a slightly damaged and odd man is seeking a partner to travel back in time with him in his time machine. Sounds strange, I know, but this movie is so original and so good that I know you will like it if you give it a chance. There's a bit of an oddball sadness to the movie, and the ending will definitely raise eyebrows….but this movie is the cinematic equivalent of a pick-me-up. Here's hoping this little gem of a film gets the audience it deserves.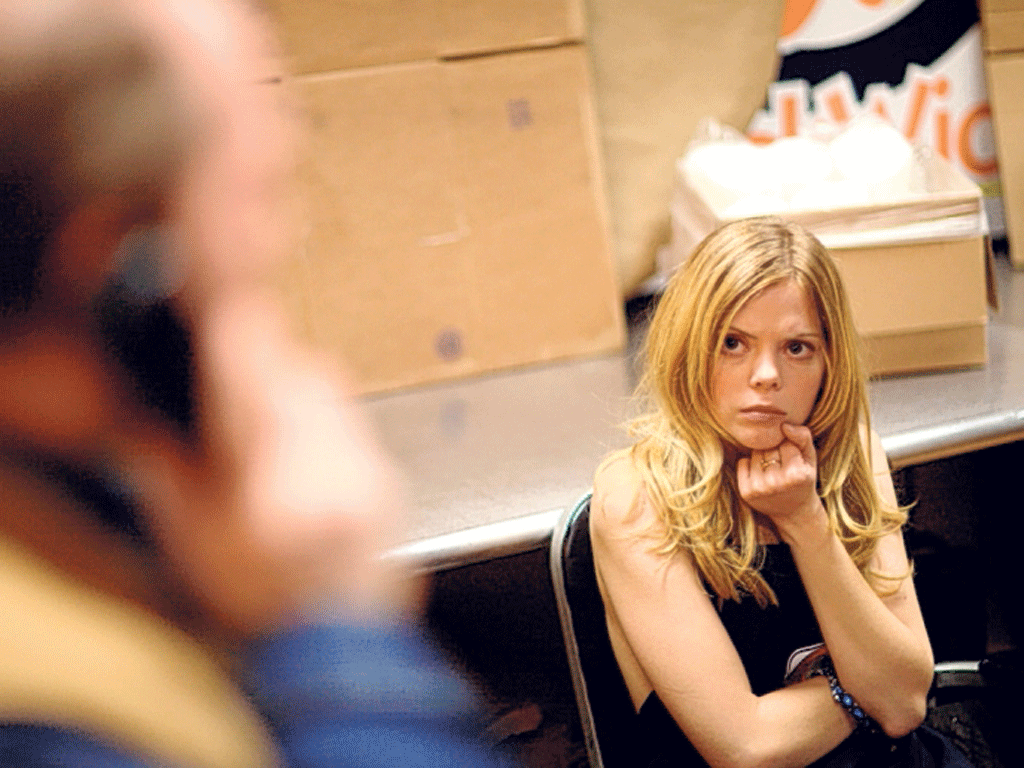 #7: Compliance
I don't want to write too much about this movie because I don't want to give anything away, but let me just say that this is one film in thousands that I've seen during my lifetime that I just cannot shake. It is one of the most disturbing films I have ever seen. How much of that is a result that it's based entirely on true events? I don't know. "Compliance" is a raw re-enactment of what is essentially a small-scale atrocity, but the heartbreaking, understated performances by the cast make this one of the best films of the year. I would love for people to see this movie and discuss it with me. This movie challenged me as a viewer like I've never been challenged before. In fact, I am making a dare. I DARE YOU to watch it and sit through the entire movie. You will squirm uncomfortably, that is guaranteed. But sometimes great films make us do just that.


#8: Jeff, Who Lives at Home
Never did I expect the day to come when I would put a Duplass brothers movie on my Best of the Year list (I am NOT a fan of their style of filmmaking, dubbed 'mumblecore'), but I have to give "Jeff, Who Lives at Home" the credit it deserves. This thoughtful and touching look at a slacker and his loser brother is an indie movie without all of that dreaded "indie quirkiness." It's a story with characters you really care about. It is a sweet, warm-hearted, slightly geeky and meandering look at two adults adrift in the world. I am a big fan of this low-key little gem of a film.


#9: For A Good Time, Call…
One of the best female friendship comedies I've ever seen, this movie had me laughing 'til I cried. Not for the prudish, this hilarious comedy about two broke girls that start a phone sex line to make ends meet is filled with original, fun, sexy comedy. The well-written script gives the movie most of its strength, but a super funny performance by Ari Graynor (she reminds me of a younger, foul-mouthed Bette Midler, but in a good way) earns this movie a spot on my Top 10 Best of 2012 list. The movie has a cool sense of realism — girls talk the way real girls do — and isn't filled with that super annoying sort of faux-sophisticated female banter (I'm talking to you, 'Sex and the City'). The two female leads have the perfect comedic timing and be sure to watch out for some HILARIOUS cameos (I won't spoil them for you). I quote this movie weekly and still bust out laughing.


#10: Life of Pi
This graceful film about a boy stranded at sea with a tiger makes my list because of the sheer beauty of the storytelling. The special effects in the movie aren't great (cgi zoo animals, anyone?) but the achievement in telling this bold, epic story in a grand, cinematic way is very impressive. Visually stunning, there are some truly breathtaking scenes that make this film play like a living art museum. Add to that a fantastic original story that makes you ask yourself some very important questions about faith, spirituality and the strength of the human spirit. Beautifully scored, rawly acted and lovingly touching, this is intelligent film making at its finest.


HONORABLE MENTIONS:
Bernie
Sound of My Voice
Hodejegerne (Headhunters)
The Perks of Being a Wallflower
Jack Reacher
The Best Exotic Marigold Hotel
The Raid: Redemption
Savages


---
You can access an archive of Louisa's Top 10 Best and Worst lists at her Screen Zealots website.
---
Save
Save
Save